High Power 18kW-GYRUS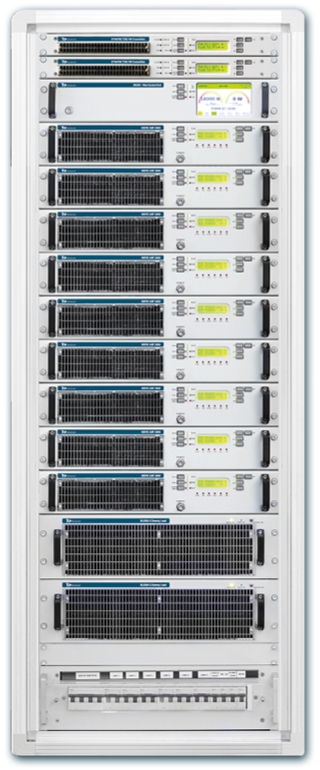 High Power
18kW FM Amplifiers Broadcast Equipment
GYRUS 18/9
Modular RF for FM, Scientific & Pulse Applications:
Is an Air Cooled High Efficiency RF Amplifiers for Radio, TV, Scientific, Medical, Industrial and Military Application
OVERALL
CHARACTERISTICS
TXM SMP© Superior Modular Philosophy
allows relevant advantages:
• The entire system benefit of the optimum characteristics of the base module VL Amplifier.
• The VL Amplifier are each of them a complete a functioning module with it's own power supply ventilation, control logic and output filter, so, as the opposite of the standard plug-in transmitters bricke lives by themselves witch facilities the maintenance and the test: no need of special tools, each module can be connected and installed or tested as a single amplifier.
• Developping the VL Amplifier our engineers concentrate all the effort on: minimize weight, cost, power consumption and heat produced, and maximize: efficiency, reliability, electrical performance, connectivity and easy maintenance.
• A single VL Amplifier can be put on air as back-up of a bigger transmitter.
• Shock and vibration during the transportation process can compromise the result of an installation, optimizing the VL Amplifier package allow our engineers to meet the most demanding transport conditions for hermetic, temperature control and vibration and Shock Isolation.
During installation and maintenance, handled light packs help the health to operators.
The TXM SMP© Superior Modular Philosophy Is a family based on a very compact Amplifier and its variouscombinations. Thanks to a careful choice of size, 2 HE, power levels of the building blocks 2 kW FM, it can be considered as the New Reference for the modular transmitters.
The modularity is completed with special combiners, FM exciters and control logics.
FM exciter can be Analog or DDS both with integrated AES/EBU interface.
KEY FACTS
Combining System
•Compact and well isolated up to twelve way 20 kW PC Power Combiner, ultra-broadband, phase stable, low loss and showing more than 20 dB of additive harmonic filtering.
•Soft controlled sequential start-up reduce inrush current during OFF to ON transition.
•FM transmitters featuring only 800 mm rack depth and up to 40 kW FM in a single 19" rack.
•Digital TV Transmitters up to 8 KW Wide Band Doherty (WBD) output power in a single 19" rack.
Hardware and Software Protections
•Over and Under Voltage DC, Over and Under Voltage AC, RF and Power Supply Temperature, RF Coaxial 
Output Open or Short Circuit
•Capability of a long working time on Short/Open loads at all phase angles without any damage.
•Last generation 1400 W LDMOS, VSWR > 65:1 @ all Phase Angles, designed for enhanced ruggedness ISM applications and plasma generators.
• Integrated AC Mains filtering.
•Integrated lightning protection.
•Delayed energized of the system after Mains Power Blackout prevents against peaks and high variation voltages typical of this events.
•Soft controlled sequential start-up so to reduce the Inrush current during OFF to ON transition.
WEB/SNMP Telemetry and Remote Control
•Full Local or Remote control by by logon username and password.
• Remote control with Smartphones or Tablet.
• Host Logic and tele-measurement (TM, TC & TA).
• Remote control and monitoring via SNMP and/or WEB interface.
• With logbook or log file to record error or alarm message.
• Display of forward/reflection power value and reflection high alarm.
Human Interface
•Each module is equipped with a logic controller that allows full control by a local operator.
•All transmitter and amplifier parameters required for diagnostics can be retrieved locally or remotely via standard (IP) protocol and standard software (web browser, SNMP).
•Multilingual user guidance.
•High Definition, high contrast Color Oled display.
•Quick set of thresholds for protections level. This set is based on assignment of three "flavors" or PERSONALITIES:
Conservative (primary target = protect itself), Standard (balanced), Aggressive (primary target = transmission without interruptions).
N+1 and Backups systems
•Conventional standby systems such as: exciter standby,(n+1) Transmitter standby, passive standby and active output stage standby can be implemented.
•No additional control units are needed for the exciter standby and the active amplifier standby.
LD Tech HIGH Efficiency
• Very high efficiency (more than 75% for a complete 5 kW amplifier).
• Last LDMOS technology for power modules.
• Ultra High RF efficiency (>80 % typ.) software optimized for each power level.
• Lowest weight and dimensions in the industry.
• Lower device heating.
• Lower room heating.
• Lower space occupied.
• Lower maintenance needed.
• Small dimensions and low weight, reduce transportation costs and simplifying the logistic.
• Longer Component Lifespan.
• Reduced Electricity Costs.
• Lower Maintenance Costs.
• Reduced Cooling Costs.
• Fewer Fans.
Driver included on the VL Amplifier
• Maximum redundancy with virtual bottleneck elimination due to presence of a driver stage (LDMOS) on each plug.
• Low power exciter due to presence of a driver stage (LDMOS) on each plug.
• Low power splitters.
• No PA changeover required.
Power Supply Redundancy
• Maximum redundancy due to presence of a compact reliable power supply on each plug
• Highest reliability supply configuration.
• The SMP Module includes a very efficient AC-DC (typ > 95%) SMPS (Switch Mode Power Supply).
Electrical Characteristics
• Very high harmonics suppression (-90dB).
• Independent, individual APC (Automatic Power Control) circuit maintain a constant output power set.
• Frequency-response-compensated directional couplers and precision internal indicators.
• Distributed less binding Low Pass filter.
Maintenance Facility
• Power Unit and Amplifier Hot swapping: plugs can be extracted/inserted without switch-off the equipment.
• Zero-Current and Zero-RF Plug-in insertion/extraction system.
• Universal spare parts: each plug is phase and amplitude characterized.
• Worldwide available spare part for power Supply (GE-General Electric).
• Any VL amplifier can be interchanged with any other in the same TXM transmitter or with a spare. No adjustment or program of any kind are needed.
• Smart Air filter included easy to clean or replace.
• Zero-Current and Zero-RF Plug-in insertion/extraction system.
• 90% of spare parts shared between FM transmitters.
• Optimized Air Flow Paths avoid damages on the electronic boards.
• The path of the air inside the transmitter to avoid contact with the electronic boards.
• Tropicalizzation of all the components against dust, humidity and pollution.
• Exhaustive final quality test.
TECHNICHAL
CHARACTERISTICS
TRANSMITTER
Power Output: Adjustable from 2kW to 40kW build with 2kW Amplifier Module up to 10 Modules in une Rack: 2kW = 1 Module, 4kW = 2 Modules, 6kW 3 Modules, 8kW 4 Modules, 10 5 Modules, 12 kW = 6 Modules, 16 kW 8 Modules, 20kW 10 Modules
Power higher than 20kW are build combining more racks amplifiers: 24kW = 2 Racks 6 Modules each rack, 32kW = 2 Racks 8 Modules, 40kW = 2 Racks 10 Modules.
Output power on/off and adjustable from front panel and remotely.
Overall Efficiency (Typical): ≥75% for transmitter.
RF Output Impedance: 50 ohm.
RF Output Connector: 1+5/8 and 3+1/8 type. (other on request)
Monitor RF: -57 dBc, BNC connector VSWR: 1.5:1 Maximum with automatic fold-back at higher VSWR
DOUBLE EXCITER WITH AUTOMATIC CHANGEOVER
SYSTEM
SNMP TELEMETRY INTERFACE
GSM AND PSTN TELEMETRY
TCP/IP TELEMETRY INTERFACE
SINCH-MODULE FOR SFN APPLICATION
OIRT & JPN VERSION
DIGITAL AUDIO INPUTS
LPFM CODE STATION:FCC IDENTIFICATION CODE
RDS CODER : EASY PROGRAMMABLE BY PC
SCA Encoder
Digital Composite 192kHz Input
ELECTRICAL (for 10kW to 40kW Transmitter)
AC Input Power: 230/400 VAC ±15%, 50/60 HZ(+/- 3HZ)
single phase or 3-phase+N
Power factor > 0.98
Cooling: Forced air
MTBF > 20.000 Hours
ENVIRONMENTAL
Operating temperature: -10°C to +50°C.
Max Operating Altitude: 4000 mt.
Relative Humidity Range: 0 to 95% non condensing.
Protection against Lightening, Dust and Corrosion
PHYSICAL DIMENSIONS (For typocal 10kW Transmitter)
Mounting: 40 unit cabinet (Other size Rack on request)
Size: 570mm. (W) x 1000mm. D) x 1800 mm. (H) - Weight: ~ 220 Kg