Blackmagic ATEM 1 M/E Production Studio 4K
Blackmagic ATEM 1 M/E Production Studio 4K

Create stunning multi camera live production with the world's most advanced production switchers!
ATEM switches between SD, HD or Ultra HD video standards so you can form exciting live production with a wide range of video sources such as cameras, disk recorders and slide shows or animation from computers.

You get powerful features such as chroma key, creative transitions, media pool, downstream keyers, audio mixer, multi view and more!

The more advanced models include features such as up to 20 SDI inputs, SuperSource multi-layer engine, full motion DVE, stinger transitions, larger media pool with full motion clips and up to an incredible 6 auxiliary outputs!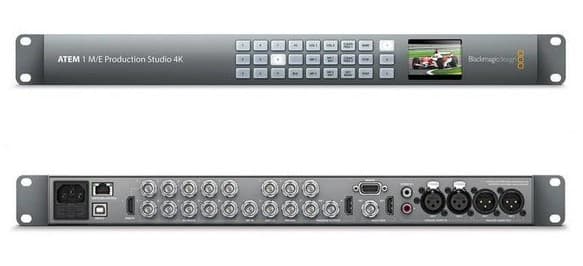 Connections:
Video inputs: 11 (10 active)
Video outputs: 10
Auxiliary outputs: 3
SDI transmission: 270Mb, 1.5G, 3G, 6G
Audio inputs: 2 x XLR, 2 x RCA
Audio outputs: 2 x XLR program
Timecode connections: Not available
Reference input: Tri-sync or black burst
Frame synchronized video inputs: 10
SDI video inputs: 10 x SD/HD/Ultra HD 4K 10 bit switchable
2 channels of embedded audio
HDMI video input
1 x HDMI type A. SD/HD/Ultra HD 4K 10 bit switchable. 2 channels of embedded audio
Analog audio outputs: 2 x XLR
SDI audio outputs: 2 channels embedded in all SDI outputs
SDI program outputs: 2 x SD/HD/Ultra HD 4K 10 bit switchable
HDMI program outputs: 1 x HDMI type A, SD/HD/Ultra HD 4K 10 bit switchable
SDI program output converted to lower resolution: 1 x 10 bit (Ultra HD 4K to HD)
SDI preview output: 1 x SD/HD/Ultra HD 4K 10 bit switchable
Multiview : 1
Multiview SDI outputs: 1
HDMI multiview outputs: 1
Control panel connection: Ethernet supports BaseT 10/100/1000.
Allows direct connection between the panel and the chassis, or via a network
Tally Output: Connecting the Blackmagic Design GPI
and Tally Interface via ethernet (not included)
Computer Interface: 1 x USB 2.0 port
Standard:
SD video standard: 525i59.94 NTSC, 625i50 PAL
HD Video Standard: 720p50, 720p59.94 1080p23.98, 1080p24, 1080p25, 1080p29.97, 1080p50, 1080p59.94 1080i50, 1080i59.94
Ultra HD Video Standards: 2160p23.98, 2160p24, 2160p25, 2160p29.97
SDI standard compliance: SMPTE 259M, SMPTE 292M, SMPTE 424M
Video Sampling: 4:2:2
Color accuracy: 10 bit
Color Space: REC 601, REC 709, REC 2020
Computer HDMI input resolutions
720 x 480i 59.94Hz
720 x 576i 50Hz
1280 x 720 59.94Hz
1280 x 720 50Hz
1920 x 1080 50Hz
1920 x 1080 59.94Hz
3840 x 2160 23.98Hz
3840 x 2160 24Hz
3840 x 2160 25Hz
3840 x 2160 29.97Hz
Specifications:
Primary Keys: 4 with chromatic/linear/luminance key
DSK Secondary Keys: 2
Talkback: Not available
Audio Feedback: Not available
Chromatic Keys: 4
Luminance/Linear Keys: 7
Transitions (Stinger/DVE): 1 stinger, 1 DVE
Compositional Levels: 8
Pattern Generators: 7
Color Generators: 2
DVEs with 3D edges and shadows: 1
Compatible Control Panels: ATEM 1 M/E Broadcast Panel (preferred); ATEM 1 M/E Advanced Panel, ATEM 2 M/E Advanced Panel and ATEM 4 M/E Advanced Panel
ATEM Software Control (included)
Media Players:
Media Players: 2
Channels: Fill signal and key for each player
Archive capacity for frames: 32 with fill signal and key
Storage capacity per clip: 2 with fill signal and key
Clip duration in 720 HD: 1600 frames
Clip duration in 1080 HD: 720 frames
Clip duration in Ultra HD: 180 frames
Maximum clip duration in NTSC/PAL: 3600 frames
Compatible frame formats: PNG, TGA, BMP, GIF, JPEG and TIFF
Compatible video formats: TGA
Compatible audio formats:WAV, MP3 and AIFF
Monitoring:
Multiview monitoring: 1 x 10 frames
Reconfigurable Panels: 8
Tally: Red for program, green for preview
Source labels: Yes
Multiview video output standard: HD
Display:
Interface: Minimum monitor resolution of 1366 x 768
Front Panel: Integrated LCD display and 42 LED buttons for switching auxiliary sources
Processing:
Color space conversion: Real-time conversion hardware
Processing delay: < 2 lines
Audio Mixer: 12 inputs, 2 channels Audio Follow Video function available Audio level and peak monitoring Master gain control Analog outputs can be used for independent monitoring
4K to HD conversion: Yes, 1 x program output
Software:
Control panel included: Free ATEM Software Control for Mac 10.12 Sierra, Mac 10.13 High Sierra or later, and Windows 8.1 46-bit or Windows 10 64-bit: Software updates
Via direct USB 2.0 connection to Mac OS or Windows. Includes ATEM Setup utility
Configuration: Via ATEM Software Control Panel, except for the chassis IP address, which can be configured using ATEM Setup, connected via USB
Installation:
Physical Installation: 1 rack unit
Environmental Specifications:
Operating temperature: 0° to 40° C
Storage temperature: -20° to 60° C
Relative humidity: 0% to 90% non-condensing