Blackmagic Design Hyperdeck Studio HD Mini Video Recorder
Blackmagic Design Hyperdeck Studio HD Mini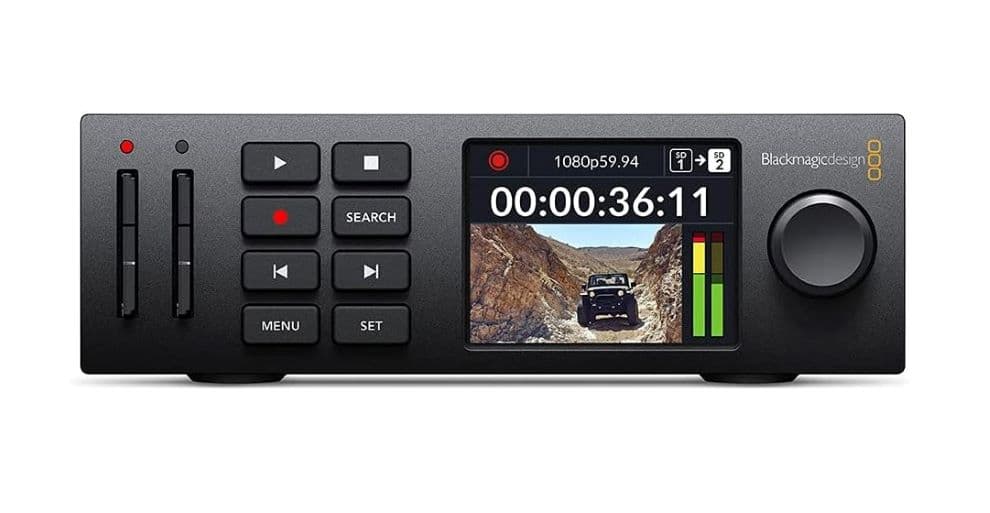 The flagship design of the HyperDeck Studio line packs all the features of professional decks into the space of a single rack unit.

The most compact of the HyperDecks follows the dimensions of the Teranex Mini drives.
The modular design allows 3 HyperDeck Studio HD Minis, or a combination of decks and switchers, converters or streaming processors, to be placed side by side in a single rack unit.

Although small, it offers advanced features such as 3G-SDI input and output, HDMI output, two SD card slots, built-in sync and timecode generators, front control panel, and AC and DC power.

You can also connect HyperDeck Studio HD Mini to your computer via USB, which detects it as a webcam, and use any video software.
Broadcast Deck:
For recording and playback of H.264, ProRes or DNxHD files in SD/HD formats up to 1080p/60 on SD/UHS-II cards or external USB drives
3G-SDI inputs and outputs
HDMI output
Dual SD card slots allow card swapping while recording is in progress
Integrated clock and time code generators
Front panel controls
Acts like a webcam when connected to a computer via the USB port
Can be used with any video software
Connections and technical features:
1 SDI video input
1 SDI video output
SDI rates: 270 Mbit, 1.5 G, 3 G
1 HDMI video output
Time code connections: 1 BNC input, 1 BNC output
Reference connections: 1 BNC input, 1 BNC output
Tri-sync or black burst
SDI audio inputs and outputs: 16 embedded audio channels
HDMI audio outputs: 8 embedded audio channels
Remote control: 1 RS-422 input
Computer interface: 1 USB-C-3.0 (up to 5 Gb/s) for recording to external drives, webcam output, software configuration and updates
Video sampling frequency: 4:2:2 YUV
Colour accuracy: 10 bit
Colour spaces: Rec. 601, Rec. 709, Rec. 2020
HDR support: Hybrid Log-Gamma, ST2084 300, ST2084 500, ST2084 800, ST2084 1000, ST2084 2000, ST2084 4000, ST2084
Multirate support: automatic detection of SD and HD
2 SD card slots
1 USB-C 3.0 expansion port for external recording in SD, HD and 2K DCI
Media type: UHS-I and UHS-II SD cards
Storage media format: formats media in ExFAT (Windows/Mac) or HFS+ (Mac) file systems
Supported codecs: ProRes HQ QuickTime, ProRes 422 QuickTime, ProRes LT QuickTime, ProRes Proxy QuickTime for all formats up to 1080p/60.
DNxHD 220x, DNxHD 220x MXF, DNxHD 145, DNxHD 145 MXF, DNxHD 45, DNxHD 45 MXF for 720p and 1080p HD formats up to 60 fps
H.264 SDI 4:2:2 10 bit, H.264 High 4:2:0 8 bit, H.264 Medium 4:2:0 8 bit and H.264 Low 4:2:0 8 bit for all progressive scan formats up to 1080p/60
Built-in control panel: 8 buttons for transport and unit control with seek controller and 2.2" colour display
External control: RS-422 deck control, SDI start/stop, timecode run
Blackmagic HyperDeck Ethernet Protocol included Supports remote file uploads via FTP
Software included: Blackmagic OS, Blackmagic HyperDeck Setup
Product software upgrades loaded at start-up or via Blackmagic
HyperDeck Setup via USB port
Compatible operating systems: Mac Catalina 10.15, Mac Big Sur 11.1 or higher, Windows 10, 64 bit
1 integrated AC power supply for 100-240 V, 50/60 Hz
1x 12V DC power supply unit with 5.5mm barrel connector for external power supply or battery operation ( power cable not included)
Dimensions: 140 x 177 x 44.2 mm (1 height unit, one third rack width)
Weight: 820 g