Blackmagic Design ATEM Constellation 8K
Blackmagic Design ATEM Constellation 8K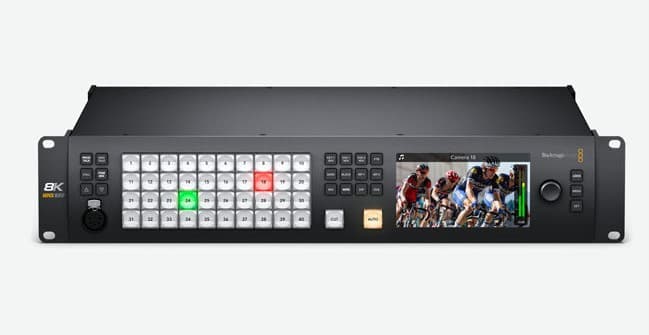 This large model is ideal for taking full advantage of the ATEM Production Studio 4K features.
It offers 4 M/E buses with 40 buttons and 4 independent system LCDs each. It also boasts 24 LCDs to display custom labels for each of the bus buttons.

ATEM Constellation 8K is an Ultra HD switcher for live production, packed with ultra-high performance features capable of operating even in 8K!

Equipped with 4 M/E, it offers 40 12G-SDI inputs, 24 12G-SDI aux outputs, 4 DVE, 16 keyers, 4 media players, 4 multiview outputs, 2 SuperSource and SDI inputs with standard conversion.

When used in 8K mode, all these functions also adopt the same format! It includes talkback function and a professional 156-channel Fairlight audio mixer with EQ and dynamics. You can also use it with the free ATEM Software Control software or with one of the formidable ATEM Advanced Panels.
19" Ultra HD Live Production Mixer:
Fully controllable from the front panel
40 Standard-convertible 12G-SDI inputs
24 Freely assignable 12G-SDI outputs
Includes 8K multiview with labels, tally and level meters
Transitions, DVE, stinger and more for broadcasting
8K DVE in full resolution
Professional broadcast talkback
Internal media storage for stills and motion graphics
New ATEM Advanced Chroma Keyer in 8K incl. multirate 12G-SDI for HD, Ultra HD and native 8K
Professional Fairlight audio mixer
Standards: HD, UHD, 8K
Colour spaces: REC 601, REC 709, REC 2020
Media player 4 x up to Ultra HD / 1 x in 8K
Channels: Fill-and-Key for each media player
Media Pool capacity for still images: 64 x up to Ultra HD / 24 x in 8K with fill-and-key
Media Pool capacity for clips: 4 x up to Ultra HD / 2 x in 8K with fill-and-key
Media Player clip length in 720 HD: 3200 frames
Media Player clip length in 1080 HD: 1600 frames
Media Player clip length in Ultra HD: 400 frames
Media Player clip length in 8K: 100 frames
Media Pool Still image formats: PNG, TGA, BMP, GIF, JPEG and TIFF
Media Pool video file formats: TGA sequence
Media Pool audio file formats: WAV, MP3 and AIFF
Supported operating systems: Mac Mojave 10.14, Mac Catalina 10.15 or higher / Windows 8.1 and 10, both 64 bit, Windows 8.1 and 10, both 64 bit
Power supply: 2 integrated 100 - 240 AC power supplies (2 IEC power cables are required - not included)
Dimensions (W x H x D ): 482 x 90 (2U) x 336 mm
Weight: 8.4 kg
Connections:
Total of 40 video inputs up to Ultra HD / 10 of them in 8K
Total of 28 video outputs up to Ultra HD / 7 of them in 8K
24 Aux outputs in total up to Ultra HD / 6 of them in 8K
SDI rates: 1.5 G, 3 G, 6 G, 12 G
Total audio inputs: 2 balanced 1/4" jacks, 1 x 32 stereo channels via BNC and MADI inputs
Total audio outputs: 2 balanced 1/4-inch jacks, 1 x 32 stereo channels via BNC and MADI outputs
Reference input for tri-sync or black burst
Video inputs with resync on all 40 inputs
Frame rate and format converters on all 40 inputs
SDI video inputs: 40 for 10 bit 720p, 1080i, 1080p, 2160p, 10 are switchable to 4320p
Extra audio outputs: 1 x 5-pin XLR socket for talkback
SDI audio outputs: 2 channels embedded SDI output on all outputs
Extra audio inputs: 1 x 5-pin XLR female for talkback
SDI programme outputs: any of the 24 SDI outputs
SDI preview outputs: any of the 24 SDI outputs
Number of Multi Views: 4 up to Ultra HD / 1 in 8K
4 SDI multiview outputs
Console connection: Ethernet - supports 10/100/1000 BaseT and allows direct connection between console and housing or via network
Internal timecode generator
Tally output: added via Ethernet connection to Blackmagic Design GPI and Tally Interface (not included)
Computer interface: 1 USB 2.0 port