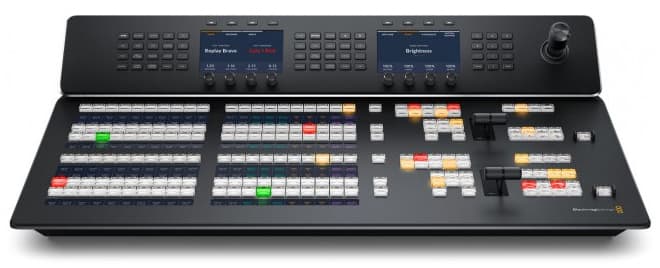 The video mixer is arguably the core element of a television studio.

It allows you to air the desired source via simple or complex transitions; create and manage virtual sets; superimpose graphics or texts.

You can find "all-in-one" video mixers, such as Blackmagic Design ATEM Television Studio HD, ideal for small studios of up to 4/8 cameras.
Alternatively, you can find mixers with one core, to which all the sources and the control surface are physically connected. These are available in several versions, with variable numbers of inputs and work layers.

There are also software mixers - like V-Mix - which use I/O video cards, such as Blackmagic Design Deck Link. In this case, everything is controlled via computer.
This type of mixer, being cheaper, is generally preferred for small studios with just a few cameras, or for external live streams such as sports events and conferences.