Web Radios
Web Radios vs. FM Radios
What's the difference between an online Web radio and an FM radio station?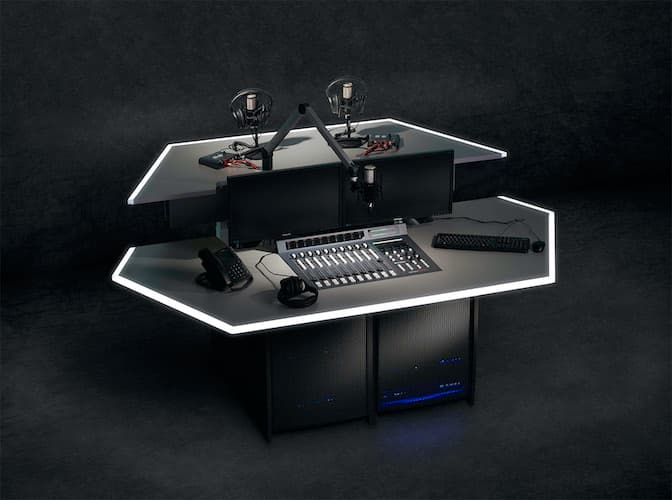 As far as radio studios are concerned, there is no difference.

The concept for going on-air, recording and editing, is the same: you may have just one studio where to record and broadcast, have two separate studios (on-air and production); you may be an amateur with a low budget focusing only on the essential products, or you may be willing to invest in a complete and professional package.

Both an amateur and a professional can choose to transmit either online or in FM frequency. In any case, two are the necessary instruments: for an FM radio, a transmitter; for a web radio, an IP audio encoder, or an IP over audio codec.

A transmitter and an IP encoder actually perform the same function. For this reason, they have the same inputs left and right coming from an audio processor or a mixer console. They do, however, differ for the outputs: the IP audio coder uses an ethernet output which can be linked to the telephone landline, to then reach the cloud server.

The cloud server service has a cost, for it allows the access of a complex number to the provider's IP address.
What's the difference between an IP audio encoder and an IP audio decoder?
They can be included in the same apparatus or be separated. The encoder takes the input audio and converts it to IP format, while the decoder does just the opposite.

The decoder's function is very similar – if not the same – to that of the STL Link for FM radios: it allows the signal to reach as far as possible even in the absence of an internet connection.
For instance, if you know the IP of a web radio, you can set it on the decoder and just listen to the audio.

The IP decoder is essential for those who already have a web radio and would like to also transmit in FM, by connecting it to a transmitter.
I would like to set up a radio station.
How would you like to transmit? Via web, FM, or both?
This is important to know in order to understand both the technical aspect (complexity of the studio in terms of equipment) and the financial one.

What would you like to transmit?
Would you like to play music continuously, or also have a speaker's voice to host the program?

When would you like to transmit?
You can transmit live or record periodically. In this second instance, you can choose to have two studios, one for broadcasting and the other for the production and editing phase.
Different software for different necessities.
You can have basic, intuitive and easy-to-use software for which no special training is required. It is a sort of more advanced version of Windows Media Player, where you can insert and program recordings, songs, interviews etc…
This type of software is recommended for basic radios that have no more than one computer, and therefore do not have more than one studio for producing/recording and broadcasting.

On the other hand, there is more complex software, used for bigger radios with several rooms and studios – thus several PCs that need to exchange data and information.
What to choose: simple or complex software?
Usually, in a PC the disk is the first component that gets damaged: so your options are:
having a PC with two disks, both containing the same data, so as to have a backup in case one of the two gets damaged;


having two PCs, a main one and a backup one with data synchronization (you will need two software licences);


having as many PCs as the studios or rooms that are in your radio station: one of them would record and edit (production) the content that would then be sent to the other PCs to be aired.
Is a Web radio less expensive than an FM radio?
No, it isn't.
The studios are identical, therefore both types of radios can be as expensive as you would like them to be – according to your needs.

Having a Web radio may be easier from a bureaucratic point of view, as you do not need governmental licences.

However, web radios are not as inexpensive as one may think, because the cost of service providers and software may well exceed that of the transmitters, installation and licences needed for an FM radio.
How many studios?
There are several combinations and offers that change depending on the composition and brand of the products, as well as on the client's financial availability.

If you wish to have a radio station then you need a studio with some essential elements, such as: audio sources (at list one microphone, a mic arm, a set of headphones, a set of speakers), a mixer console, a PC with automation software and an audio card, an audio processor and, finally, an IP audio encoder for online broadcasting and/or a transmitter for FM broadcasting.

In this case, the speaker will also be the editor of the radio.

For those who have a good budget and are planning to undertake a more structured, complex project, involving several people, it is recommendable to have two studios:
An On-Air Studio: composed of an area for the speakers and presenters and one for the guests, with the option to divide them into two separate rooms, depending on the client's needs;


A Production Studio: dedicated to the recording and editing of the material that is to be broadcasted.
The two studios exchange data, then the resulting audio is sent to the audio processor, then to the IP encoder and/or transmitter.

In this type of radio there may be several roles: one or more presenters or hosts, guests and editors.

For those who are planning to have such a radio setup, it may be interesting to know that there is a piece of equipment called Audio Changeover Silence Detector.

This is connected to both the console and the transmitter/IP encoder, and its function is that of activating the audio of one of the two studios when one of them incurs in technical issues.
In an emergency situation, if the on-air studio has problems with the audio (prolonged silence), then the audio changeover instrument detects the fault and automatically activates, airing the audio of the production studio instead.

This allows you to have perfect synchronisation between the two studios, and never run into any major issues that may cause you to stall while you are on the air.