Converters
Converters
High-quality SDI/HDMI Audio & Video Converters
for your TV Studio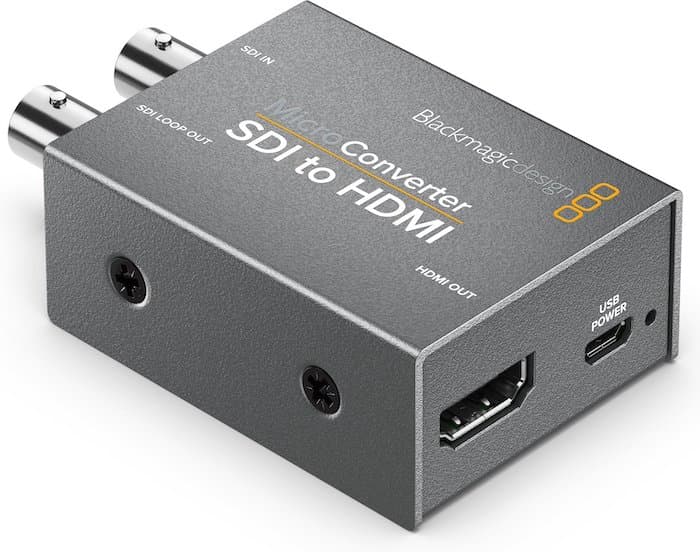 Types of converters for TV studios
There are many different types of converters that can be used differently within a television studio, allowing you to convert video signals from one format to another.

SDI-to-HDMI converters, for example, are necessary if you wish to send any SDI signal to the studio or direction monitors.
HDMI stands for High Definition Multimedia Interface, meaning it is a digital interface used for transmitting high-definition audio and video signals between devices.
SDI, or Serial Digital Interface, on the other hand, is a digital interface used for transmitting uncompressed video and audio signals over coaxial cables.
HDMI and SDI converters allow conversion from one format to the other and vice versa.

Then there are Audio-to-SDI converters, which allow you to embed the audio signal into the video one – namely to connect audio devices to SDI video sources.
The Blackmagic Design Audio to SDI Mini Converter, for example, can embed audio 3G/HD/SD-SDI sources in up to 1080p60 resolution.

SDI distributors can provide you with up to 8 identical outputs from just a single input, without having to get a very expensive matrix for that. They allow you to distribute and convert SDI signals to different formats.
Again, Blackmagic Design mini converters are amongst the most advanced in the market, with their 6G-SDI technology.

SDI-to-Fiber converters allow you to convert SDI video signals to optical fiber signals, in order to be able to reach much longer distances.

There are also converters which allow you to edit the video format: when, for example, all the signals in the studio are in HD but the transmission system is in SD.