Blackmagic Design ATEM Mini Pro
Blackmagic Design ATEM Mini Pro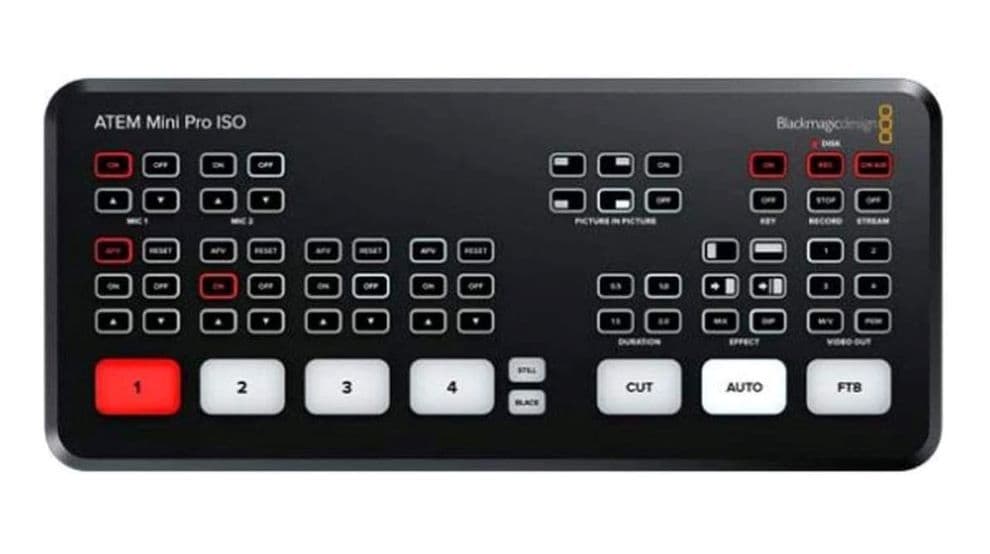 The ATEM Mini Pro sets up in a snap and is easy to use. It offers 4 HDMI inputs with standards conversion, a USB webcam output and HDMI output, a Fairlight audio mixer with EQ and dynamics, DVE for picture-in-picture, transitions with effects, color key for green screen, 20-frame archive for titles, and ATEM Software Control.

The ATEM Mini Pro allows you to record in H.264 directly to USB flash drives and stream via ethernet to platforms such as YouTube Live.
It also offers multiview for 4 cameras, multimedia, preview and program, including recording, streaming and audio indicators.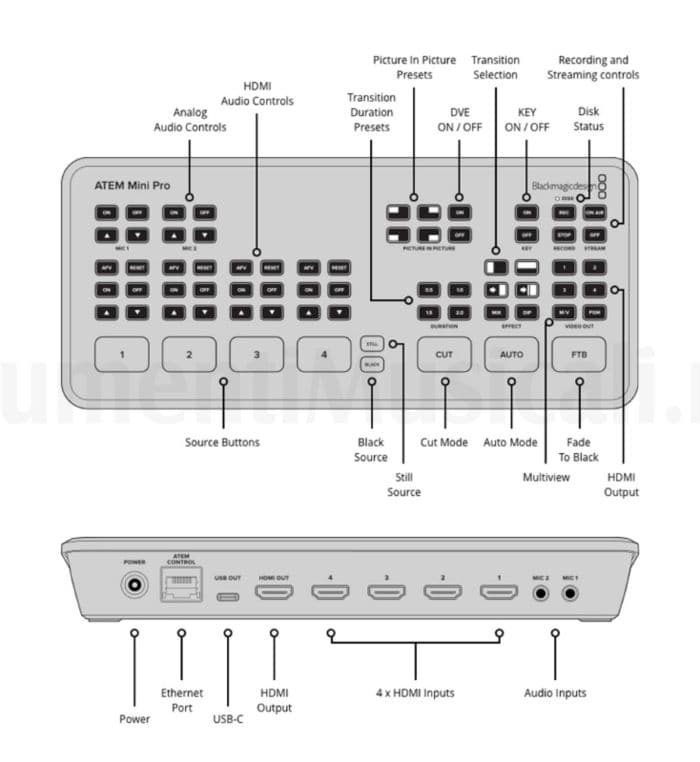 Technical Features:
RTMP-capable for direct live streaming via Ethernet
Multiview via HDMI output with views for four cameras, preview and schedule as well as recording, streaming and audio status
Ideal for streaming, recording and mixing
Ideal for YouTube, Skype or business presentations
USB output for web streaming and HDMI output for on-site presentations
USB output works as a webcam
Four scalable HDMI inputs for video sources such as camcorders
Frame rate and format converter on all four inputs
DVE processor for picture-in-picture effects and full HD DVE transitions
Broadcast-quality transitions, including mix, dip, and wipe
Two stereo audio inputs for connecting desktop or clip-on microphones
Internal memory for 20 RGBA graphics for titles, opening panels and logos
Includes an ATEM Advanced Chroma Keyer for working with green or blue screens
Audio mixer supports limiter, compressor, 6-band equalizer and more
Record directly to USB flash memory in H.264 with AAC audio
HD video standards for input and output up to 1080p/60
4 HDMI ports (Type A, 10-bit HD, switchable, 2-channel embedded audio)
1 HDMI video output (Type A)
1 USB-C 3.1 port for software control, recording, updates and streaming
10/100/1000 BaseT Ethernet
2 x 3.5mm stereo mini-jack audio inputs