JVC SR-HD1350E Blu-Ray Recorder
JVC SR-HD1350E Blu-Ray Recorder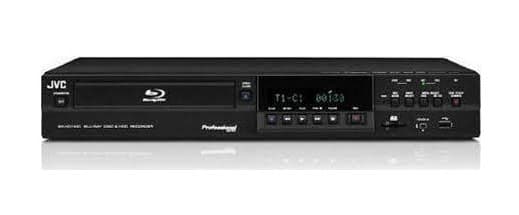 The SR-HD1350EU combo deck offers users a cost-effective way to create standard high-definition Blu-Ray discs or standard DVDs directly from a live video input or from video files stored on the built-in HDD.

Live input is provided via the unit's A/V (SD) connectors or IEEE-1394 (SD/HD) interface and can be recorded directly to Blu-ray or DVD or the internal 320GB hard drive.

General features:
Records video BDMV, BDAV, DVD-VR and DVD discs
Supports disc security features to prevent illegal distribution
Convert recordings without duplicating them
Connects to non-HDCP supporting devices
External RS232C or LAN control
Pause while recording
Create chapter and edit functions
Automatic chapter from camera trigger point
Composite/S-VIDEO/Component input
TC Overlay
BluRay/DVD List Points
Records BDMV, BDAV, DVD-VR and DVD-Video discs directly from a variety of sources or from the internal high-capacity hard disk drive and ensures compatibility with the widest range of players.
Direct-to-Disc Recording. You can record BDMV, BDAV, DVD-VR and DVD-Video discs directly from a variety of sources in addition to duplication from the internal high-capacity HDD .
It supports importing MOV and MXF files.
The deck supports importing MOV and MXF files* from JVC ProHD camcorders (GY-HM890/HM850, GY-HM600, etc.) .It records in HQ (35Mbps) or SP (25Mbps/19Mbps) mode. You can make simple edits on the deck's HDD without the need for a computer and send the result to a Blu-ray disc.
Convenient editing functions, including Playlist/Cut/Edit. You can apply Playlist/Cut/Edit to titles stored on the internal hard drive, so you can create edited videos that meet your specific needs. You can also create Auto Repeat discs that automatically resume playback from the beginning for unattended demonstrations.
Long Lasting Continuous Recording Capability You can continuously record up to 24 hours on Blu-ray or 8 hours on DVD, which can be useful in applications such as facility surveillance, monitoring and control of on-air content at a broadcast station. When the continuous recording time is reached, the recorder stops once, then resumes recording until the media fills up.